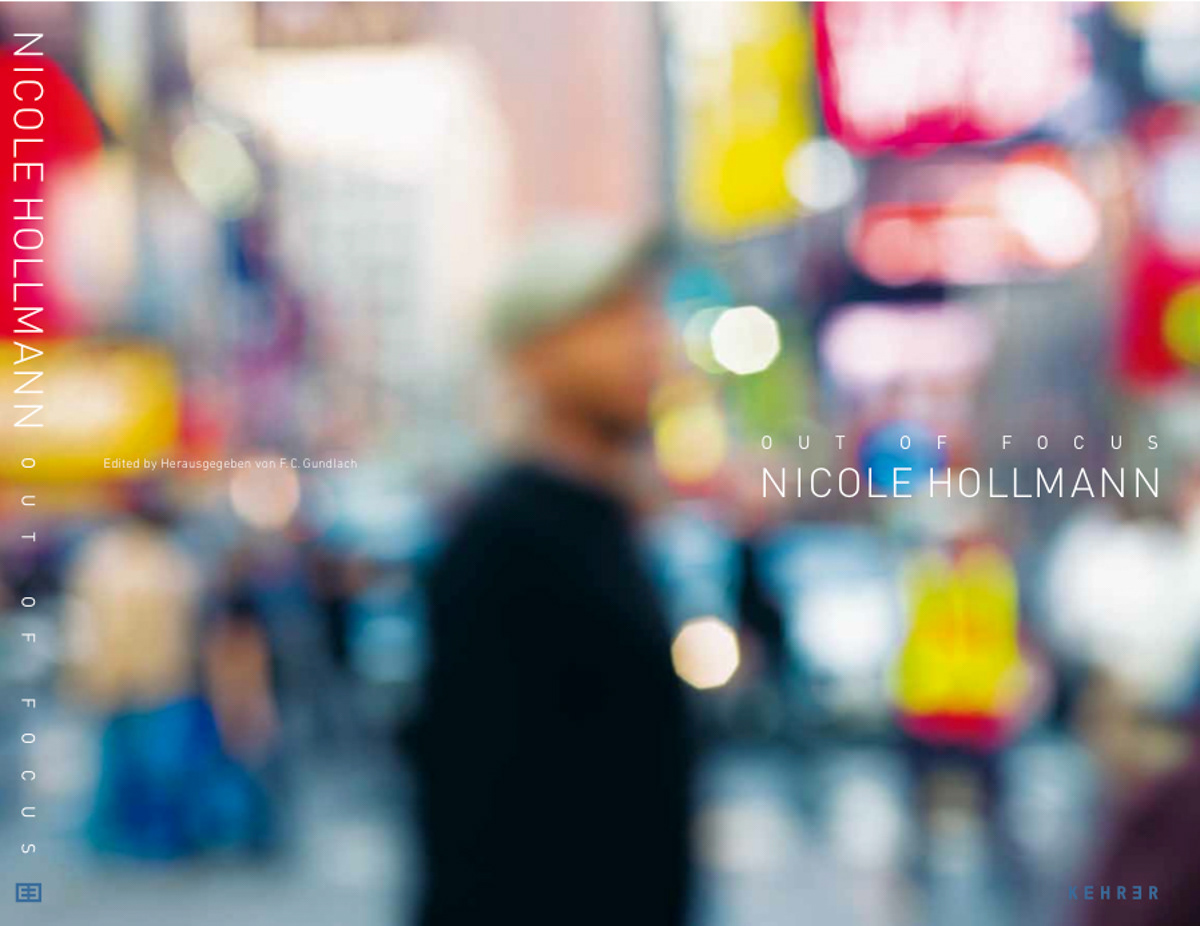 »I saw your book 2 years ago in Arles, didn't buy it at the time, but added it to my wish list. I buy very few things... I'm kind of a minimalist. But one day I couldn't resist anymore... I can't explain what triggered it... But the strong quality of your work and statements plus ease of buying played a big part. … I finished reading your book. It's fabulous... Your photos are strong and so are your statements«.  Stéphane Cojot-Goldberg / Paris / October 2014
​​​​​​​
Nicole Hollmann »Out of Focus«
The vibrant metropolis New York inspired Nicole Hollmann to transform its three-dimensional reality with all its myriad acoustic and olfactory facets into two-dimensionality through the medium of photography. The result is a series of large-format photographs that verge on the threshold of painting. Hollmann sacrificed the precise articulation and delineation of her subjects in favor of impressions of their forms and – above all – colors.
Her pictures do not impose any particular reading on viewers, dictating how they should see the world around them. Instead, they challenge us to fill the space left open by the reduced pictorial information with our own experiences and emotions. The personal imagery that thus emerges is often more precise than the kind of obtrusively sharp focus that often conceals more than it reveals. 
€ 38.00 incl. VAT, Hardcover, English/German, 112 pages, 40 color illustrations, 27,6 x 22 cm, ISBN 978-3-86828-236-8 
You like to buy a signed book?
​​​​​​​
The
price
for one signed book is 38 €. 
Please add 12 € for
shipping and packaging
within Germany, 18 € for EU/Switzerland and 22 € for all other countries:
> 
 One book within
Germany
> 38 € + 12 € = 
50 €
> 
 One book within
EU/Switzerland
> 38 € + 18 € =
56 €
> 
 One book to 
all other countries
> 38 € + 22 € =
60 €
Fast and easy payment via PayPal possible: pay@nicolehollmann.com
If you do not want to use PayPal, for example because you prefer to pay by bank transfer, please send me a message:
mail[at]nicolehollmann.com
​​​​​​​​​​​​​​
The
delivery time
is between 3 and 14 working days after receipt of payment. Please understand that a return/exchange of signed books is not possible. ​​​​​​​
________________________________________
Nicole Hollmann »Out of Focus«
Die pulsierende Metropole New York inspirierte Nicole Hollmann dazu, die dreidimensionale Realität mit ihren akustischen und olfaktorischen Reizen durch das Medium der Fotografie in die Zweidimensionalität zu transformieren. Dabei entstanden großformatige Fotografien an der Schwelle zur Malerei. Hollmann verzichtete auf die präzise Abbildung und genaue Linienführung zu Gunsten von Form und - vor allem - Farbe.
 
Die Bilder zwingen dem Betrachter nicht auf, wie er die Welt wahrzunehmen hat. Viel mehr fordern sie ihn, den Raum, der durch die zurückgenommenen Bildinformationen entsteht, mit eigenen Erfahrungen und Emotionen zu füllen. Die so entstehenden, persönlichen Bilderwelten wirken deshalb oft präziser, als aufdringliche Schärfe, die häufig mehr verbirgt als zeigt.
 
38.00 € inkl. MwSt., 
Festeinband, Deutsch/Englisch, 112 Seiten, 40 Farbabbildungen, 27,6 x 22 cm, 
ISBN 978-3-86828-236-8 
Sie möchten ein signiertes Buch kaufen?
Der
Preis
für ein signiertes Buch beträgt 38 €. 
Bitte addieren Sie 12 € für
Versand und Verpackung
innerhalb Deutschlands, 18 € für EU/Schweiz und 22 € für alle anderen Länder:
> 
 Ein Buch innerhalb
Deutschlands
 > 38 € + 12 € = 
50 €
> 
 Ein Buch 
innerhalb der EU/in die Schweiz
 > 38 € + 18 € =
56 €
> 
 Ein Buch in
alle anderen Länder
 > 38 € + 22 € =
60 €
Schnelle und einfache Zahlung über PayPal möglich: pay@nicolehollmann.com   
Wenn Sie PayPal nicht verwenden möchten, weil Sie zum Beispiel lieber per Banküberweisung bezahlen, schreiben Sie mir gern eine Nachricht: 
mail[at]nicolehollmann.com
Die
Lieferzeit
liegt zwischen 3 bis 14 Werktagen nach Zahlungseingang. Bitte haben Sie Verständnis, dass eine Rückgabe/ein Umtausch von signierten Büchern nicht möglich ist. 
Unsignierte Bücher

können beim Kehrer Verlag, bei amazon – oder beim Buchhändler ihres Vertrauens bestellt werden.